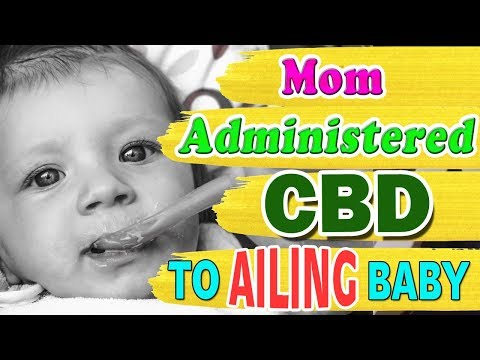 Mom Administered CBD to Ailing Baby – s
Host: Today's guest co-host Ricki Lake executive produced a documentary that's in select theaters now is called we the people and it explores the struggles of families treating their cancer stricken children with cannabis which in many state still illegal. Take a look.

Reporter (Boy): They found over 20 tumors in his chest.
Sophie's Mother: They said your daughter will not live to see her second birthday. When your kids got cancer the raw book goes out the window really. I wouldn't feel right if I didn't explore everything that I was. When we found out about Sophie's brain tumor I had no idea this would be the gift from God to here.
Doctor: The different ways that Cannabis and Cannabinoids seemed to suppress cancer is quite impressive.
Sophie's Mother: That's life and death, as a mom myself I would do it in a heartbeat knowing what I know. Lives as society are we denying people they use of something that I have seen over and over and over again they helpful.
Ricki Lake: Thank you for having me and talk about this. It is the project I worked done my husband my beloved deceased husband Christian Evans and I started this project on 2012 he was searching for his own ways of healing from Chronic Pain and other issues at the same time I met a little girl doing the answers of stars It was also suffering going to chemotherapy. So we went on his journey I mean my career is more behind the scenes these days I don't host show anymore but I make this documentaries that matter to me I made a movie about birth called the business of being born and this project is so important because so many people need to be deprogrammed about this plant. This is a medicine it's the humiliate issue. So by focusing for the last six years on children with cancer takes the stigma away this is not about legalization it's not about getting high it's about people having access in these medicines.
Sara Gilbert: It's so strange to me because that we are combining two issues like just because some people use it recreationally but what you're saying is that it's help cure some people.
Ricki Lake: We don't say that c-word, were very careful not to say cure but yes they're in they're mission. One boy in the film we followed him this whole time AJ he's 16 years old he was sent home to die with 20 tumors in his lungs. 3 months later on cannabis oil there is no sign of disease. It's amazing it's really it's so important that we understand that this medicine is been sort taken away from us and we have been really to think that it's like glocu weed and that I mean this all kinds of thing that caused it to be classified as a schedule one drug you know.
Sheryl Underwood: It's been demonized and I think times have changed and I think you know it's for some it may be easier to digest by saying cannabis oil is supposed to weed.
Ricki Lake: Or smoking it yeah this children they not smoke it.
Sheryl Underwood: When you call it weed and everybody thinks weed something dangerous or something bad but I think for me the issue for me spiritually god made everything for the good so when you find out this is doing good you must change how you feel about it.
Sara Gilbert: Just say for John Paul they just found this in the amazon.
All: Right
Sharon Osbourne: It would be treated totally different it would be the miracle drug. This is amazing it would be treated so differently and I think a lot of it is to do with the drug companies coz the drug companies don't wanted alcohol. Because it will destroy their profits and that's all they care about it's a money thing and that the pharmaceutical companies had so much strengthen this country and that's what is about.
Host: Yeah, well I feel that we all need to see this film thank you for making it. Will be right back.
People are Veering to CBD Oil as Additional Aid s
More Info:
l
r
s
p
g
Follow us:
/
w
/
/
Is your CBD Oil Certified by U.S. Hemp Authority? Check it here: /
#cancertreatment #cancerprevention #cancercure #cancersurvivor #medicinal #herb