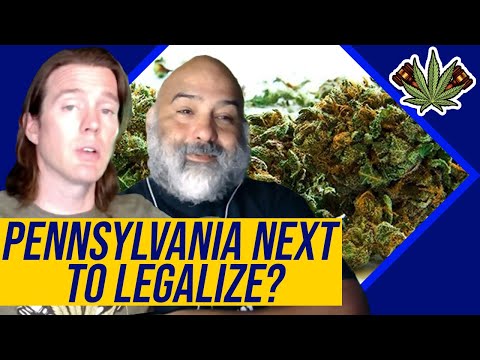 Will Pennsylvania Be Next to Legalize? The Governor Hopes So

Seattle becomes the largest US city to decriminalize psychedelics, New York finally adds flower to its medical marijuana program, and Pennsylvania lawmakers are making big moves to legalize. LIVE today at 2 PM CST!
We can help with your cannabis business. Get in touch here! p
Subscribe to CLN for more cannabis content! r
Become a member for exclusive perks! j
______________________________________________
Cannabis Legalization News Footnotes:
0: 00 – Start of Cannabis Legalization News
1: 46 – Legalizing marijuana: Two Pa. lawmakers have joined forces in a bipartisan effort to get it done (PennLive)
11: 35 – Seattle Becomes Largest U.S. City To Decriminalize Psychedelics (Marijuana Moment)
24: 20 – Study: Marijuana Ranks Among Best Treatment For Persistent Existence (The Onion)
27: 35 – Inside the Bay Area's biggest-ever marijuana bust: gym bags stuffed with cash, 40 Rolexes and $1,000 bottles of wine (San Francisco Chronicle)
37: 28 – Clint Eastwood Wins $6.1 Million From 'Online Scammers' in CBD Lawsuit (Rolling Stone)
38: 44 – Justin Bieber's Latest Venture? Cannabis for a Cause (VOGUE)
46: 00 – Illegal activity in medical marijuana industry discussed at hearing (Yahoo! News)
57: 00 – New York's Cannabis Control Board meets, adds 'flower' to medical program (NY Daily News)
1: 00: 40 – Massachusetts is strong-arming legal pot shops to pay for more cops (MIC.com)
LEGAL NOTE ABOUT CANNABIS LEGALIZATION NEWS
Cannabis Legalization News is an educational news and talk show, the very center of many of our discussions is cannabis. Cannabis currently remains federally illegal and YouTube is mandated by federal regulations. We implore you to go to our website "Cannabis Industry Lawyer" and subscribe to our newsletter so you can keep up with all cannabis legalization news. Please always comply with your jurisdiction's cannabis laws. If they delete our channel, we're sorry – we tried to comply but they said we did not.
#CannabisNews #WeedNews #Pennsylvania