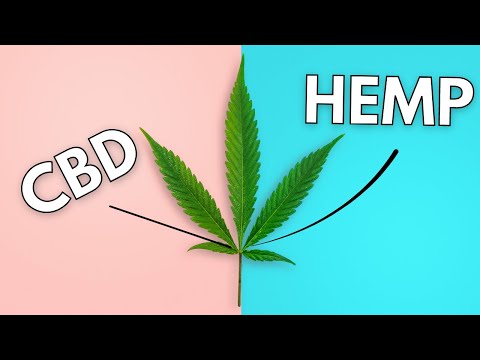 In this video, we break down the differences between Hemp and CBD. We answer the big question of hemp and CBD are the same thing? Hemp seed oil and CBD oil both derive from the cannabis plant. CBD oil comes from the flowers, leaves, and stems, while hemp seed oil uses extract from the seeds of the cannabis plant.

Products containing hemp seed and CBD oils do not typically cause a high, since the levels of THC, if any, tend to be very low.
Both CBD oil and hemp seed oil have numerous potential health benefits, but scientists must continue to study them because research is limited.
Hemp is a strain of the 'cannabis Sativa plant species.
Although cannabis (the drug) and industrial hemp both derive from cannabis Sativa and contain the psychoactive component tetrahydrocannabinol (THC), they are distinct strains with unique compositions and uses.
Unlike cannabis, hemp has lower concentrations of THC and higher concentrations of cannabidiol (CBD). In short, neither hemp nor CBD will get you high.
Hemp has been grown for thousands of years in Asia and the Middle East, but it also has a history in the U.S. For example, hemp was used by the U.S. during World War II to make uniforms, canvas, and rope.
These days, hemp is used to make a variety of commercial and industrial products, including rope, textiles, clothing, paper, insulation, and biofuel. Plus, hemp seeds can be eaten raw or made into a liquid and used for baking or for beverages such as hemp milk. They can also be made into oil for shampoo, soap, or body lotion.
The 2018 Farm Bill changed hemp from a controlled substance to an agricultural commodity, legalizing hemp federally, which made it easier for farmers to get production licenses, loans to grow hemp, and federal crop insurance.
So where does CBD come in?
In short, CBD is derived from hemp.
CBD is one of the chemical compounds called 'cannabinoids' that are found in the cannabis Sativa plant. But CBD, unlike THC, is not psychoactive and therefore does not result in a 'high.'
CBD comes in many forms, some of which are edible, others that can be smoked or used on the body's exterior, like a rub or cream. CBD oil, for example, is made by extracting CBD from the cannabis plant, then diluting it with a carrier oil like coconut or hemp seed oil.
The only CBD medication that is currently approved by the Food and Drug Administration (FDA) is Epidiolex, which the agency approved in 2018 for the treatment of two types of epilepsy. But many people use CBD as a treatment for various ailments — most commonly, pain and anxiety.